01 本周最新美国全职/实习岗位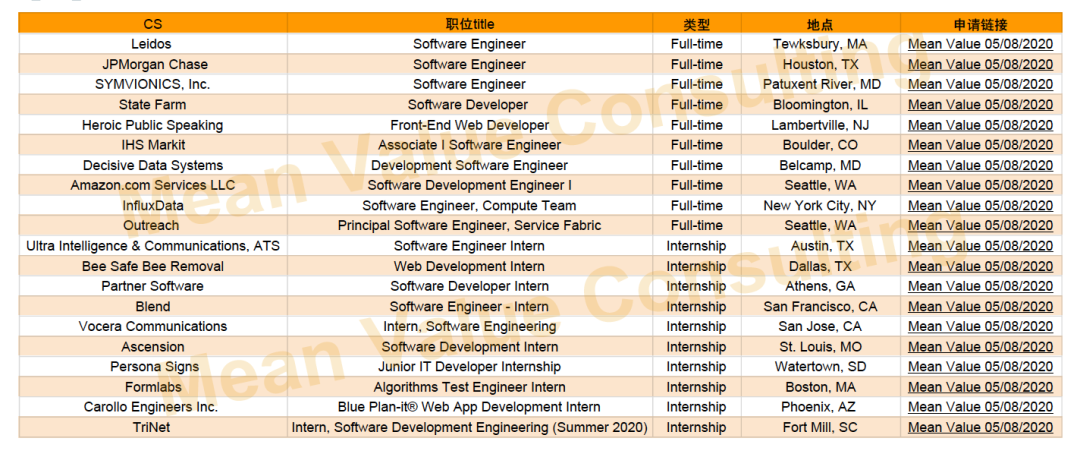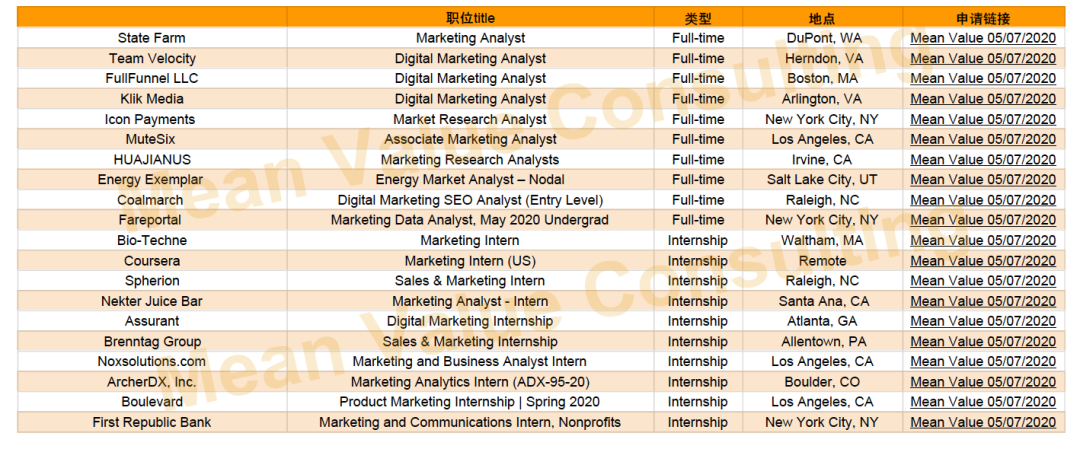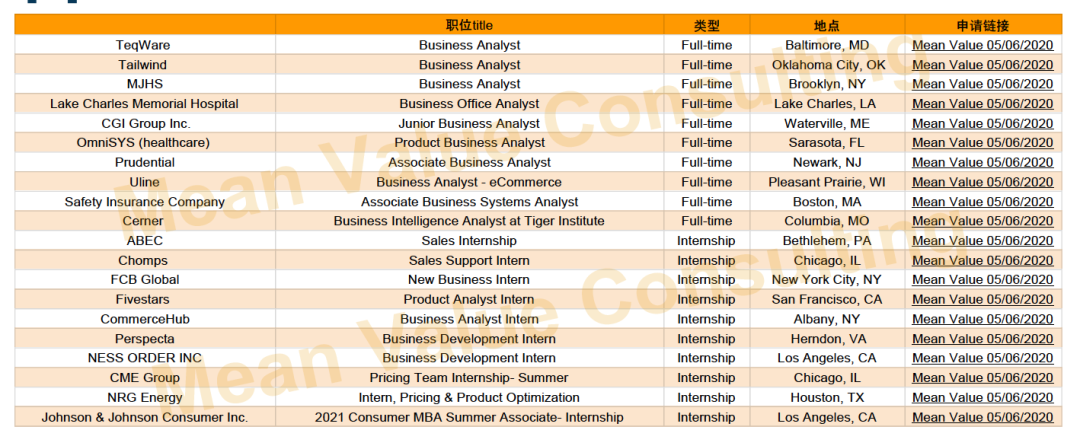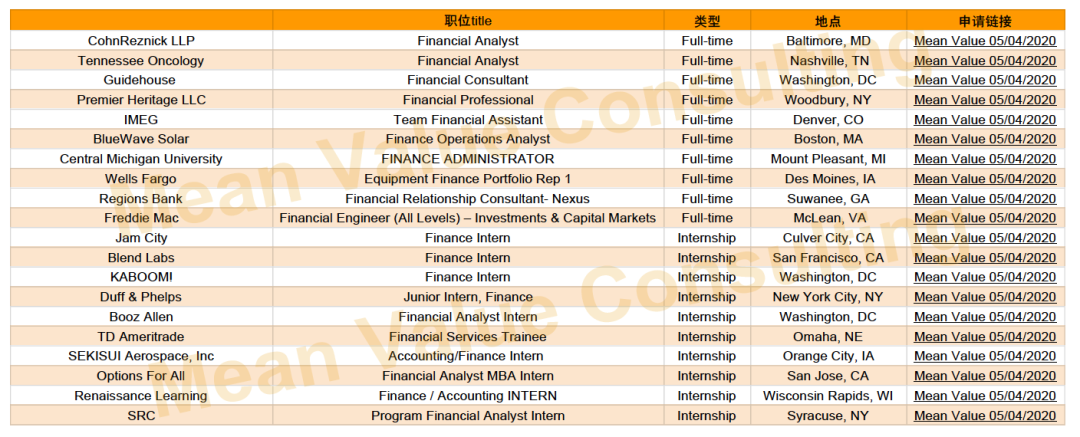 扫码添加Mean Value求职顾问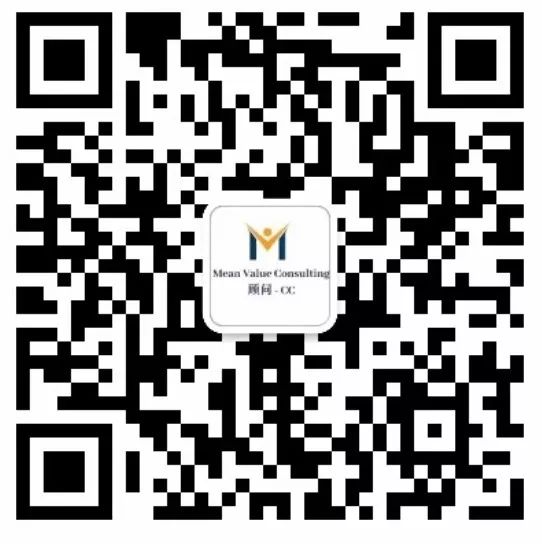 根据个人背景独家定制求职规划
资深导师简历精修,辅导面试
帮助您顺利拿到工作offer
为您的求职保驾护航
02 2020 Marketing方向 职位
1
Marketing Analyst – Intern
Job Type: Internship
Location: Santa Ana, CA
Responsibilities
• Supports the P&L and understands the key leavers to increase profit
• Focuses on the vital few to drive the business translating brand strategy to channel specific brand strategies and executions
• Assists with developing annual marketing plans that meet the growth objectives for each category
• Creates segment and account specific marketing programs to drive demand
• Provides field sales the tools and materials they need to achieve sales objectives
• Closely monitors and analyzes sales volumes, market share trends and competitive activity
• Performs in-depth analysis and reporting of multi-category marketing, promotional campaigns and programs to optimize their performance.
• Leads end to end business processes with cross functional partners
• Coordinates product management and/or cost reduction projects with internal and external resources to achieve results (product development, production planning, trade promotion, sales, market research, consultants and advertising agencies

Qualifications
• Strong numerical and analytical skill set with ability to interpret quantitative data and perform detailed trend analysis utilizing raw volume data
• Outstanding verbal, written and interpersonal communications skills with a proven ability to work collaboratively with product development and sales
• Ability to handle simultaneous projects and deliver within agreed upon time frames
• Experience in marketing plan development: situation assessment, strategy, and tactical plan development
• Strong organizational and project management skills
2
DIGITAL MARKETING INTERNSHIP
Job Type: Internship
Location: Atlanta, GA
Responsibilities
• Creating and updating content in our Content Management System and working with content strategists and campaign managers to build out content inventories, mock-up designs, and deliver on set expectations;  
• Cleaning up content, images, etc. that are not in use in our CMS; 
• UX audit on our web site, looking for consistencies in layout and design across site; conducting UX research on our competition and discussing possible improvements to new and existing content; 
• Building out UTM tags, pulling reports from analytics dashboards, and conducting sanity checks on our analytics pipeline; 
• Revamping CMS documentation to be content editor friendly; building out UX and architecture of Sharepoint Documentation site 
• Creative brief submission for campaign creative deliverables 
• Translation submissions for regional content translations 

Qualifications
• Working towards or recently completed an Associate or Bachelor's degree, preferably in marketing, technical writing, content writing, digital design  or user experience.   
• Have previous experience with content management systems such as SiteFinity, WordPress, or Drupal—Sharepoint experience is a plus;   
• Have had course work or experience with analytics platforms like Google Analytics. Working knowledge of UTM tags, event tagging, and campaign tracking in dashboards;  
• Some knowledge of HTML, CSS, JQuery is preferred  
• Prior experience with Sketch or Adobe Creative Suite products like Photoshop, XD, or Illustrator is preferred.  
• Experience with email automation tools like Litmus, Marketo, Constant Contact, Mailchimp preferred.
3
Market Research Analyst
Job Type: Full-time
Location:  New York, NY
Responsibilities
• Collect and analyze data on client demographics, preferences, needs, and habits to identify potential markets and factors affecting their demand of our products.
• Prepare reports of findings, illustrating data graphically and translating complex findings into written text. 
• Measure and assess client satisfaction. 
• Forecast and track marketing and sales trends, by analyzing collected data.
• Seek and provide information to help our company determine its position in the marketplace. 
• Measure the effectiveness of marketing, advertising, and communications programs and strategies. 
• Conduct research on consumer opinions and marketing strategies, collaborating with marketing professionals. 
• Gather data on competitors and analyze their prices, sales, and method of marketing and distribution. 
• Monitor industry statistics and follow trends in trade literature

Qualifications
• Bachelor degree of Economics or Business Administration
03 2020 Business Analyst职位
1
Product Analyst Intern
Job Type: Internship
Location: SAN FRANCISCO, CA
Responsibilities
• Understanding data infrastructure (Redshift/Tableau/Python), product strategy, business model, and competitive landscape
• Experience in writing sophisticated SQL queries to extract data
• Experience in building out dashboards (in Tableau) to help run the business
• Assisting in designing and analyzing  A/B tests to iteratively optimize product
• Exposure to performing complex analyses (using R/Python) to extract learnings and deliver insights
• Communicate findings – emphasizing clarity, completeness, and actionability

Qualifications
• Currently pursuing a Bachelor's degree in a highly quantitative/technical field (e.g. Physics, Computer Science, Economics, etc.) from a top-tier university
• Previous internship in an analytics function – ideally in a consumer-facing business.
• Ability to solve business problems and provide clear and analytically-supported solutions
• Demonstrate intellectual curiosity
2
Intern, Pricing & Product Optimization
Job Type: Internship
Location: Houston, TX
Responsibilities
• Participate in Pricing and Product Optimization team on a variety of strategic initiatives and projects.
• Contribute to objectives that may range across business strategy, process improvement, product development, and/or sales analytics.
• Provide support on requested efforts, organizing tasks, communicating clearly, and proactively outlining next steps.

Qualifications
• Bachelor's degree on track to achieve in Business, Marketing or Finance Degree preferred
• Demonstrated academic achievement
• Excellent written and oral communication skills
• Personal computer proficiency with word processing, spreadsheets, presentation software (e.g., Microsoft PowerPoint).
• Outstanding work ethic
• Leadership potential
• Ability to work on multiple projects
• Entrepreneurial spirit
• Problem-solving skills
3
Business Analyst
Job Type: Full-time
Location:  Brooklyn, NY
Responsibilities
• The Data Analyst works collaboratively with the Claims Director in supporting the department to deliver timely and accurate payment of claims. As a resource to the Claims Staff the Data Analyst supports the team in creating and generating ad hoc queries to define system requirements, utilizing analytical and technical skills to understand and write complex SQL queries that merge/extract data.

Qualifications
• HS diploma; Bachelor's Degree or Associates Degree in a health related field preferred
• Experience working with technology, systems and IS departments
• Knowledge of ICD-9 and CPT-4 coding and medical terminology (preferred)
• Testing, data validation, and data flow experience is a plus
• Proficient in Windows, Word, Excel; Crystal and SQL
• Knowledge of Visio and Powerpoint a plus
04 2020 Data 职位
1
Data Analytics Intern
Job Type: Internship
Location: SAN FRANCISCO, CA
Responsibilities
• Work with product managers and designers to provide analysis of and insights into player behavior and overall game performance to drive product decisions using our top of the line data warehouse.
• Create easily interpretable live dashboards to allow for rapid analysis of product health, feature prioritization, event performance and monetization.
• Identify and drive analytics projects that you want to work on that will provide positive ROI for the studio and company.
• Collaborate on machine learning/other data science projects to improve monetization and engagement.

Qualifications
• Majoring in a business or quantitative discipline (Economics, Statistics).
• Some experience using SQL (experience with statistics software, Python, R a plus), excel and data visualization tools.
• Knowledge of statistics and statistical models (linear/logistic regression, cluster, factor analysis).
• Strong communication skills to articulate quantitative analysis in a way that broad game teams and executives can understand.
• Ability to plan, execute, present results on analysis projects.
2
Data Science Intern (Summer 2020)
Job Type: Internship
Location: Remote
Responsibilities
• Collaborating with a team to analyze problems• Writing functions/scripts to build datasets base
• Modeling, building, and testing 
• Writing informal reports for internal use
• Working with developers and implementation engineers to develop database domain models

Qualifications
• Experience with R, Python, or Matlab
• Experience building time series, spatial, or financial forecasting models for prediction
• Familiarity with any or all of the following:
– Cross-validation
– Gradient Boosting
– Deep Learning
– Data Visualization
– Containerization
– Dirichlet Latent Process
– Ensemble methods
– Time series analysis (GARCH, auto-regressive or moving average, etc.)
– Bayesian inference
– Random forest and decision tree models
• Solid communication skills
• Comfortable working in an entrepreneurial environment
3
Data Engineer
Job Type: Full-time
Location:  Portland, OR
Responsibilities
• Learn and maintain knowledge relevant to consumer behavior, fraudulent activity patterns and payment processing.
• Support the creation and maintenance of a diverse set of calculations that support the Data Science team
• Support others with your deep knowledge of T-SQL and data processing approaches
• Ability to tune workloads and integrate data from multiple platforms is a plus

Qualifications
• The selected candidate will possess at least five (5) years of extensive experience working with TSQL, views, joins, tuning and ETL development.
• Knowledge of best practice and principles related to DevOps, ITSM, Agile and SRE.
• Highly analytical and detail oriented with strong problem-solving skills.
• Demonstrated skills in Microsoft T-SQL development and working knowledge of data modeling, data warehousing and data mining.  
• Excellent verbal and written communication, interpersonal and customer service skills.
• Strong organizational skills.
• Must be able to work independently and display initiative, self-motivation and dedication necessary for timely and successful work completion.
• Must have demonstrated history of impeccable integrity, ethics and fair play.
• Self-starter and a team player that will thrive in a fast paced environment.
• High level of proficiency with MS Office tools. 
• Experience with multi-Terabyte databases, noSQL databases, Kafka, Spark and other cloud based technologies a plus