今天小编继续为大家整理了一些
最新开放的Marketing相关岗位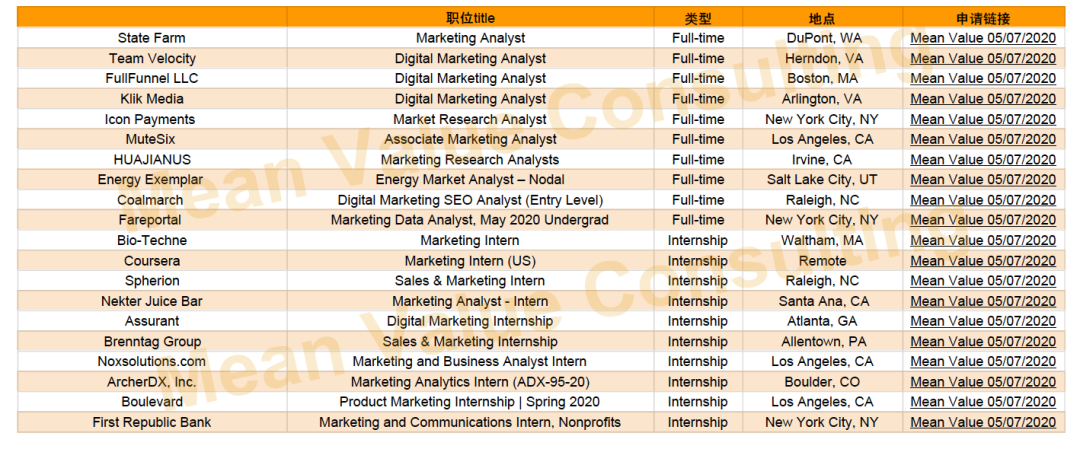 1
Marketing Analyst – Intern
Job Type: Internship
Location: Santa Ana, CA
Responsibilities
• Supports the P&L and understands the key leavers to increase profit
• Focuses on the vital few to drive the business translating brand strategy to channel specific brand strategies and executions
• Assists with developing annual marketing plans that meet the growth objectives for each category
• Creates segment and account specific marketing programs to drive demand
• Provides field sales the tools and materials they need to achieve sales objectives
• Closely monitors and analyzes sales volumes, market share trends and competitive activity
• Performs in-depth analysis and reporting of multi-category marketing, promotional campaigns and programs to optimize their performance.
• Leads end to end business processes with cross functional partners
• Coordinates product management and/or cost reduction projects with internal and external resources to achieve results (product development, production planning, trade promotion, sales, market research, consultants and advertising agencies

Qualifications
• Strong numerical and analytical skill set with ability to interpret quantitative data and perform detailed trend analysis utilizing raw volume data
• Outstanding verbal, written and interpersonal communications skills with a proven ability to work collaboratively with product development and sales
• Ability to handle simultaneous projects and deliver within agreed upon time frames
• Experience in marketing plan development: situation assessment, strategy, and tactical plan development
• Strong organizational and project management skills
2
DIGITAL MARKETING INTERNSHIP
Job Type: Internship
Location: Atlanta, GA
Responsibilities
• Creating and updating content in our Content Management System and working with content strategists and campaign managers to build out content inventories, mock-up designs, and deliver on set expectations;  
• Cleaning up content, images, etc. that are not in use in our CMS; 
• UX audit on our web site, looking for consistencies in layout and design across site; conducting UX research on our competition and discussing possible improvements to new and existing content; 
• Building out UTM tags, pulling reports from analytics dashboards, and conducting sanity checks on our analytics pipeline; 
• Revamping CMS documentation to be content editor friendly; building out UX and architecture of Sharepoint Documentation site
• Creative brief submission for campaign creative deliverables 
• Translation submissions for regional content translations 

Qualifications
• Working towards or recently completed an Associate or Bachelor's degree, preferably in marketing, technical writing, content writing, digital design  or user experience.   
• Have previous experience with content management systems such as SiteFinity, WordPress, or Drupal—Sharepoint experience is a plus;   
• Have had course work or experience with analytics platforms like Google Analytics. Working knowledge of UTM tags, event tagging, and campaign tracking in dashboards;  
• Some knowledge of HTML, CSS, JQuery is preferred  
• Prior experience with Sketch or Adobe Creative Suite products like Photoshop, XD, or Illustrator is preferred.  
• Experience with email automation tools like Litmus, Marketo, Constant Contact, Mailchimp preferred.
3
Market Research Analyst
Job Type: Full-time
Location:  New York, NY
Responsibilities
• Collect and analyze data on client demographics, preferences, needs, and habits to identify potential markets and factors affecting their demand of our products.
• Prepare reports of findings, illustrating data graphically and translating complex findings into written text. 
• Measure and assess client satisfaction. 
• Forecast and track marketing and sales trends, by analyzing collected data.
• Seek and provide information to help our company determine its position in the marketplace. 
• Measure the effectiveness of marketing, advertising, and communications programs and strategies. 
• Conduct research on consumer opinions and marketing strategies, collaborating with marketing professionals. 
• Gather data on competitors and analyze their prices, sales, and method of marketing and distribution. 
• Monitor industry statistics and follow trends in trade literature

Qualifications
• Bachelor degree of Economics or Business Administration
扫码添加Mean Value求职顾问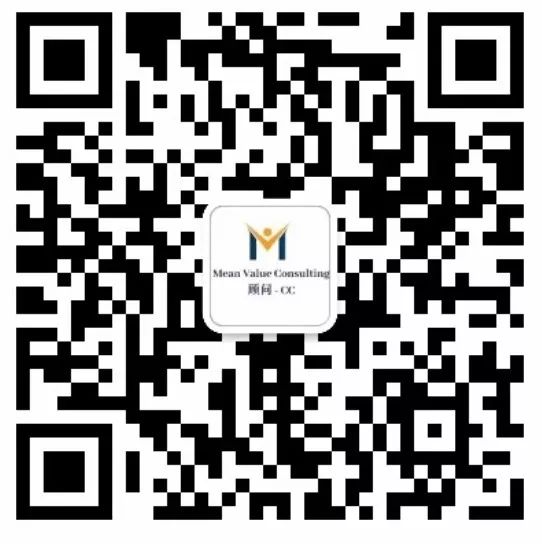 根据个人背景独家定制求职规划
资深导师简历精修,辅导面试
帮助您顺利拿到工作offer
为您的求职保驾护航